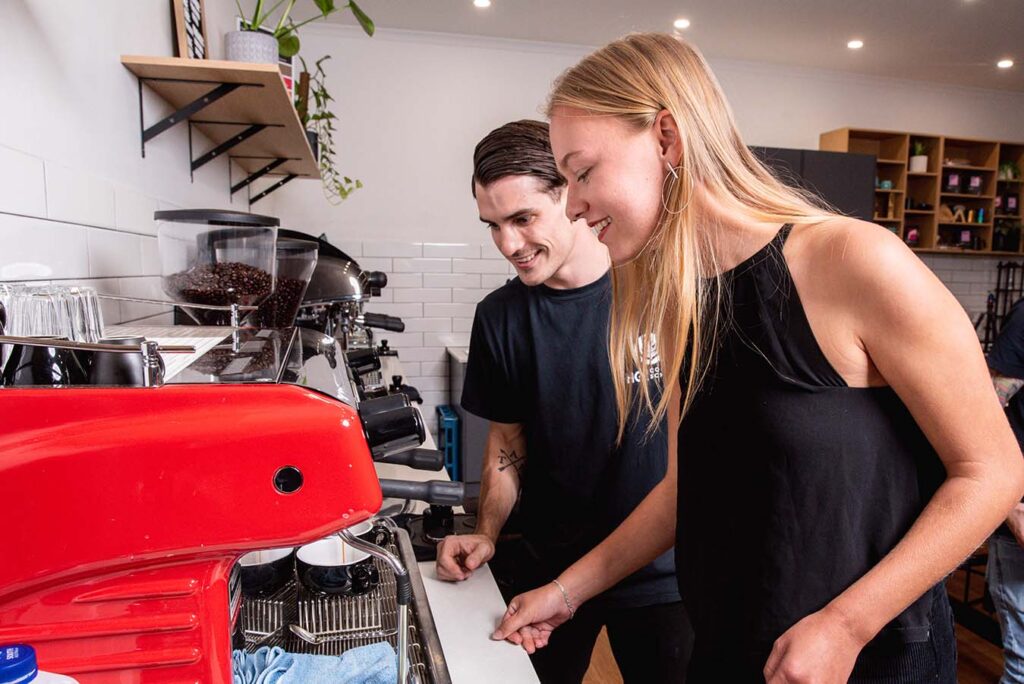 In 2007 the Hospitality Group was born from two enthusiastic cousins Harry Lalidis & Peter Giannakis; prepared to establish themselves in the cafe and hospitality market.  Their plan was ambitious and would test them immeasurably.  The cousins proceeded to build, staff and operate seven cafes throughout Adelaide.
In 2008 another two were built and started, in 2009 another two, and in 2010 another was built from scratch and operated this was now a total of twelve cafes.
Much of this growth can be attributed to their passion for a high quality product and the opportunities that availed themselves from this commitment to superior product and service.
By 2009 it became blindingly apparent that training was going to be pivotal in maintaining the highest standard of food and coffee. After sending staff to various training providers and being disappointed with the training provided, Peter began running weekly barista classes for staff from one of the city cafes.
The training days were fun and staff loved attending. So much so that they began bringing along friends and family.
This was great but training was beginning to become a costly exercise especially when half the attendees were not even staff.
The decision was made later in that year that non-staff would be required to make a payment towards materials used.
The classes proved to be a great success with staff producing fantastic coffee and passion for perfect coffee ignited in all who attended the training, but classes were becoming too popular with all the extra attendees resulting from word of mouth.
That year the HG Coffee School was established.
The school delivered training that was delivered by someone who lived and breathed the cafe environment. The training was industry focused with techniques which were the current standard. The hospitality group was now employing competitive barista champions.
Since our days huddled behind a cafe coffee machine our training facility has moved from our cafes to shared premises with the Carrick Institute and most recently our state of the art; purpose fitted facility in Regency Park.
Today the HG Coffee school puts its name on the resume and work of each of its graduates.
With almost 80% of our bookings coming from referral and recommendation we know we deliver on our promise!
We're filled with pride when our students call us and thank us for assisting them with their first job in the industry, and we're still absolutely thrilled to share our passion for coffee.
Meet The Team
All of those great reviews on our testimonials page/google/facebook are because of our sensational team of trainers.
You're in good hands with the HG Coffee School Team
Trainer & Brewing Genius
"When life gives you lemons, trade them for coffee"



Coffee Of Choice: Surprise me, but make it a pour over
FAVOURITE COURSE:
Alternative Brewing in all its forms, I love sharing coffee with my students in its fullest diversity and potential in a fun environment.

INDUSTRY BACKGROUND:
From cafe all-rounder to manager and later owner, I'm currently and active coffee machine technician.

CAREER HIGHLIGHTS:
Two times State Barista Competitor & Cafe Ownership
READ MORE
Business Manager & Trainer
"There is no life without water. Because water is needed to make coffee."


Coffee Of Choice: A long black please
FAVOURITE COURSE:
Resume & Job Hunting Workshop – I not only love introducing new students to coffee and building their confidence, I most love setting our graduates on their path towards employment and following their journey into the workplace

INDUSTRY BACKGROUND:
Head Barista, Cafe Manager, Cafe Franchise Operations & Cafe Owner.

CAREER HIGHLIGHTS:
Cafe Ownership and currently working on opening a new cafe. I also hope to judge regional Barista Competitions this year!
READ MORE
Barista Trainer
"Life without coffee is like something without something…sorry, I haven't had any coffee yet."

Coffee Of Choice: I won't say no to a piccolo latte
FAVOURITE COURSE:
Barista Level 1 in Chinese – I'm so proud to be able to deliver the HG Coffee School Curriculum in another language

INDUSTRY BACKGROUND:
10 years in the industry, i've been trained by the best and have worked for the hardest.

CAREER HIGHLIGHTS:
Industry Competitions – Looking forward to competing well into the future
READ MORE
Barista Trainer
"Coffee owns me, and I'm fine with that."



Coffee Of Choice: Latte thanks.
FAVOURITE COURSE:
One On One Training is my favourite! Nothing makes me happier than isolating a weakness and turning it into a strength!

INDUSTRY BACKGROUND:
8 years working in cafes. From Dishy to Manager in 3 years!

CAREER HIGHLIGHTS:
Working with the amazing team at the HG Coffee School
READ MORE
Director & Trainer
"Way too much coffee. But if it weren't for the coffee, I'd have no identifiable personality whatsoever."

Coffee Of Choice: Single Shot Long Black
FAVOURITE COURSE:
Cafe Startup Mentorship Program – I find it amazingly rewarding teaching the ins and outs of running a cafe business and seeing our graduates go on to own their own cafes.

INDUSTRY BACKGROUND:
More than 10 years of multiple cafe ownership.

CAREER HIGHLIGHTS:
Australian Specialty Coffee Association Head Judge, Award winning business writer & proud owner of the HG Coffee School
READ MORE
Barista Trainer
"A bad day with coffee is better than a good day without it."



Coffee Of Choice: Double Shot latte please
FAVOURITE COURSE:
Barista Level 2 – I love this course because it's almost pure high speed coffee production. Making the most amount of coffee in the least amount of time.

INDUSTRY BACKGROUND:
Bartender & Barista by trade. Passion has added teaching to my trade skills 🙂

CAREER HIGHLIGHTS:
Working with the HG Coffee School to set the highest standard in training
READ MORE