The Barista Level 1 course is the most up to date certified course on the market! This course starts at the very beginning and covers all the information and techniques required to operate the coffee machine and grinder and pour the perfect cup of coffee.
As an added bonus we incorporate food safety training into our Barista Level 1 course. This gives all of our graduates not only a greater understanding of safe food practices but also a greater level of employability through qualifications.
Course Duration is 6.5hours
9am – 3.30pm
Select a course date to book from our below dropdown menu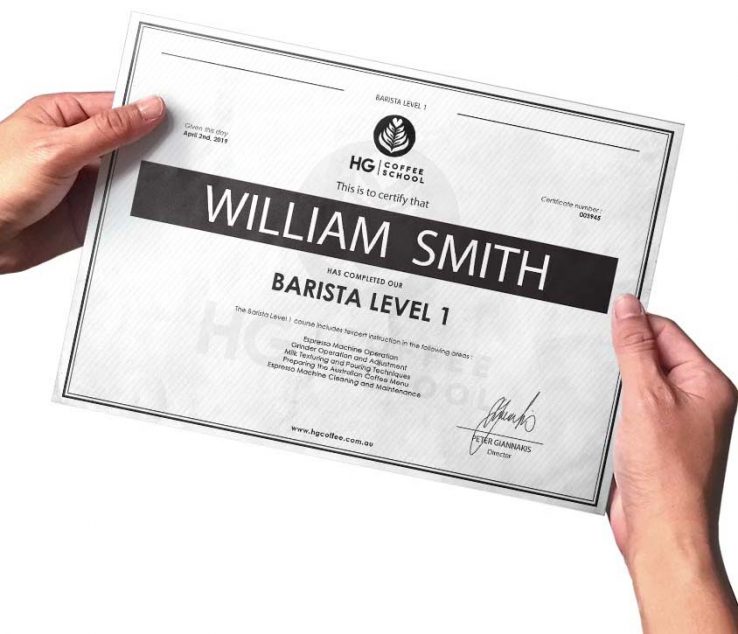 Barista Level 1 Course Content
Certified Barista Level 1
Understanding and appreciating coffee 
Coffee roast profiles and flavour profiles
The decaffeination process
Coffee machine and grinder operation 
Calibrating equipment for cafe service 
Extracting espresso coffee
Milk texturing and pouring techniques
Preparing the coffee menu
Cleaning and maintaining equipment  
Sounds good right? We've added even more bonuses for you to become the best barista you can be!
Bonus #1 Food Safety course included!
Bonus #2 Two-Hour Employer's Perspective employment seminar – learn how to get an edge on the competition!
Bonus #3 Your copy of Grind It our 90-page interactive barista manual!
Bonus #4 Your copy of Get That Job 43-page Barista job hunting guide!
Bonus #5 A custom barista resume template from Coreena Cole Design!
–  Barista Course Adelaide  –
Bonus Inclusive Food Safety Training
FAn absolute necessity for every hospitality worker, this nationally accredited qualification ensures that you demonstrate safe hygiene practices at work to avoid food hazards, food contamination and adhere to proper reporting procedures for any issues relating to food safety. Ensuring that you are serving your customers the highest quality product is paramount if you are working in a cafe, restaurant or bar environment 
COURSE CONTENTS
Food safety practices
Food safety laws, standards and codes of practice
Food contamination
Hygiene practices in the workplace
Health risks and illnesses
Hazard analysis and reporting
Click to download your Barista Level 1 course information pack and call us to arrange alternative payment options!
Select a course date from the dropdown menu below to register for this course
So What Do Our Classes Look Like?
This is what our Barista Level 1 Graduates had to stay about the training...
I had some doubts going into the training, I was most worried about 'too much theory'. The theory was minimal, all practical work and very hands-on. The HG Coffee School are experts!
I would recommend this training to everyone because it's a great skill set to have wherever you go. It was an awesome day which was very informative.
Having only 'on the job' training, I found this course to be rather informative. Luke shared his passion for coffee through his instructing – More courses need a Luke!
Frequently Asked Questions
By upgrading your certification and registering your training with the Department for Education you will receive your nationally recognised Statement of Attainment certificate. If you go on to study Hospitality at Certificate Level I, II, III or IV you will not have to repeat this course unit.
Training with us means you will well known and respected name of HG Coffee School on your resume! We train thousands of students in all levels of coffee each year and we will assist you improve your skills to get that job!
Our facilitators are coffee professionals with a wealth of knowledge and skill when it comes to mentoring students and teaching the techniques required to make outstanding coffee. Our practical intensive courses cover all of the course content with a mix of demonstrations, one-on-one and small group activities
No, as long as you are comfortable holding a jug of hot milk (65 degrees celsius) and can reach over a standard kitchen bench, there will be no issues. If you do have any concerns about participating please call us to discuss alternative training options
Select a course date to book from our below dropdown menu